Details
http://aesthetix.net/digital.php
Please find reviews below:
This all-tubed CD player and DAC is one of the greatest bargains in high-end audio today. What makes the Romulus special is that it sounds so "un-digital," particularly at this price. Rather than sounding flat and congealed, the Romulus opens up the spatial presentation and gives instruments and voices room to breathe. The player has an expansive quality along with a sense of top-octave air and openness. The tonal balance is rich and warm in the bass, which, coupled with the treble smoothness, results in an immediately engaging and fatigue-free presentation. The Romulus doesn't sound "tubey" in the classic sense, but neither does it sound like solid-state. The design and build-quality are beyond what's expected at this price. If you have no analog sources, the Romulus can serve as a preamplifier and DAC with multiple digital inputs, provided you purchase the variable-output option ($1000). Thanks to an innovative hybrid analog/digital volume-control, there's no loss of resolution no matter what the volume setting." -Robert Harley, The Absolute Sound Golden Ear Award (September 2014)

The Romulus is another home run for Aesthetix, combining innovative circuit design, premium-quality parts and construction, and first-rate sound. This player was never anything less than musically communicative and immensely enjoyable, even in the context of a cost-no-object system. The Romulus is a flat-out bargain at its price, and invites comparison with much more expensive players. In fact, I'd call the Romulus a giant-killer, offering one of the highest price-to-performance ratios in digital playback today." -Robert Harley, The Absolute Sound (May/June 2014), download PDF.


Excellent dynamic impact and bass slam with sweet mids and highs." -Jon Iverson, Stereophile Class A Recommended Component (2014)

The Romulus delivers sound with a wonderful sense of space and ease. And detail? There's loads. The player uncovers subtleties with considerable skill." -What Hi-Fi? (UK, June 2014, ROMULUS DAC and CD transport), read review

"The build- and parts-quality are first-rate. Sonically, the Romulus offers an exceptionally natural sound with a great sense of ease and an expensive soundstage." - Robert Harley,The Absolute Sound (March 2014), download PDF.

(Romulus) has that combination of honey and of detail that enables you to listen to music for hours and never get tired or irritated." Hi-Fi i Muzyka Product of the Year Award (Poland, February 2014) read review

...Romulus worked flawlessly and was a joy to use... the design, engineering, and build quality are top-notch for its price—and for the tube enthusiast, it's a no-brainer." - Jon Iverson, Stereophile (2013, ROMULUS DAC and CD transport), read review.

Klanglich einer der musikalischsten Player überhaupt... harmonisch, farbig, schnell und kraftvoll... vom Computer gelieferte Files habe ich persönlich in dieser Qualität noch nicht gehört." -Michael Lang, STEREO (Germany, 2012, ROMULUS DAC and CD transport)

"Tonally one of the most musical players there is... harmonious, colorful, fast and powerful... I have never heard computer audio of this quality." -Michael Lang, STEREO (Germany, 2012, ROMULUS DAC and CD transport)

...vivid dynamic contrast... vibrant sound... excellent analytics... with a taste of vinyl texture..." -Sam Ho, HiFi Review (Hong Kong, 2012, PANDORA DAC and ROMULUS DAC and CD transport)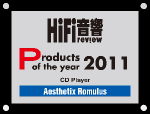 HiFi Review
Product of the Year
(2011, Hong Kong, ROMULUS DAC and CD transport)
"6 Moons" Online Magazine Review