YG Acoustics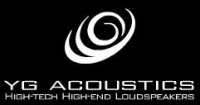 Established in 2002 and located in Denver (Arvada), Colorado, U.S.A., YG Acoustics™ is a world-leading ultra-high-end speaker manufacturer. We also incorporate in-house a full-fledged high-tech research firm and a highly sophisticated CNC machine shop.

At YG Acoustics™ we are unique in utilizing highly advanced proprietary software, developed in-house, for designing our speakers. We are also one of the very few manufacturers to produce in-house our own drivers, cabinets and most other high-precision parts. The depth and breadth of our capabilities allow us to present you, the discerning listener, with speakers that are far more accurate than otherwise achievable.
Manufacturer's website YG Acoustics
Absolute Hi End is a sole importer of YG Acoustics Speakers in Australia.